Please visit our new dedicated Boat Trailer Web Site at ...
AlleghenyBoatTrailers.com
For more information, please visit our new dedicated Boat Trailer Web Site at ...
AlleghenyBoatTrailers.com


Trailer Request Form

Aluminum ...
Dual Axle
Excellent Stability
Light weight - Can be towed by full-sized car!
Will not rust - Ever!
DOT approved lighting in a sealed harness system - All wiring is enclosed! (LED or Incandescent)
Tie down rings
Generous cargo area
Five Lengths ...
23ft - Singles or Doubles
27ft - Fours
36ft - Small eight carrier
39ft - Medium eight carrier
41ft - Large eight carrier
Electric brakes with safety break away system
Adjustable hitch for easy towing
Optional tool box fabricated to full trailer width
Optional fold-down rear light bar
Optional flood light with sockets at all four corners

Aluminum 39 ft medium eight carrier shown
All wiring is totally enclosed in the frame.

H&W's custom-made rail design for superior strength.
| | | |
| --- | --- | --- |
| | Optional fold-down light bar becomes a fifth rail for extra support. | |
| | |
| --- | --- |
| | Aluminum Crew Boat Racks (set of 2) assemble easily on-site for storage of up to 8 crew boats of any length. When disassembled, the racks can be easily stowed in the boat trailer. Each rack weighs only 86 lbs. and can hold 160 lbs. per rung. |
---
Steel ...
Dual Axle
Excellent Stability
DOT approved lighting in a sealed harness system
Tie down rings
Generous cargo area
Lengths - 36ft, 39ft, 41ft
Steps at each cross-arm
Electric brakes with safety break away system
Adjustable hitch for easy towing
Painted or Galvanized finish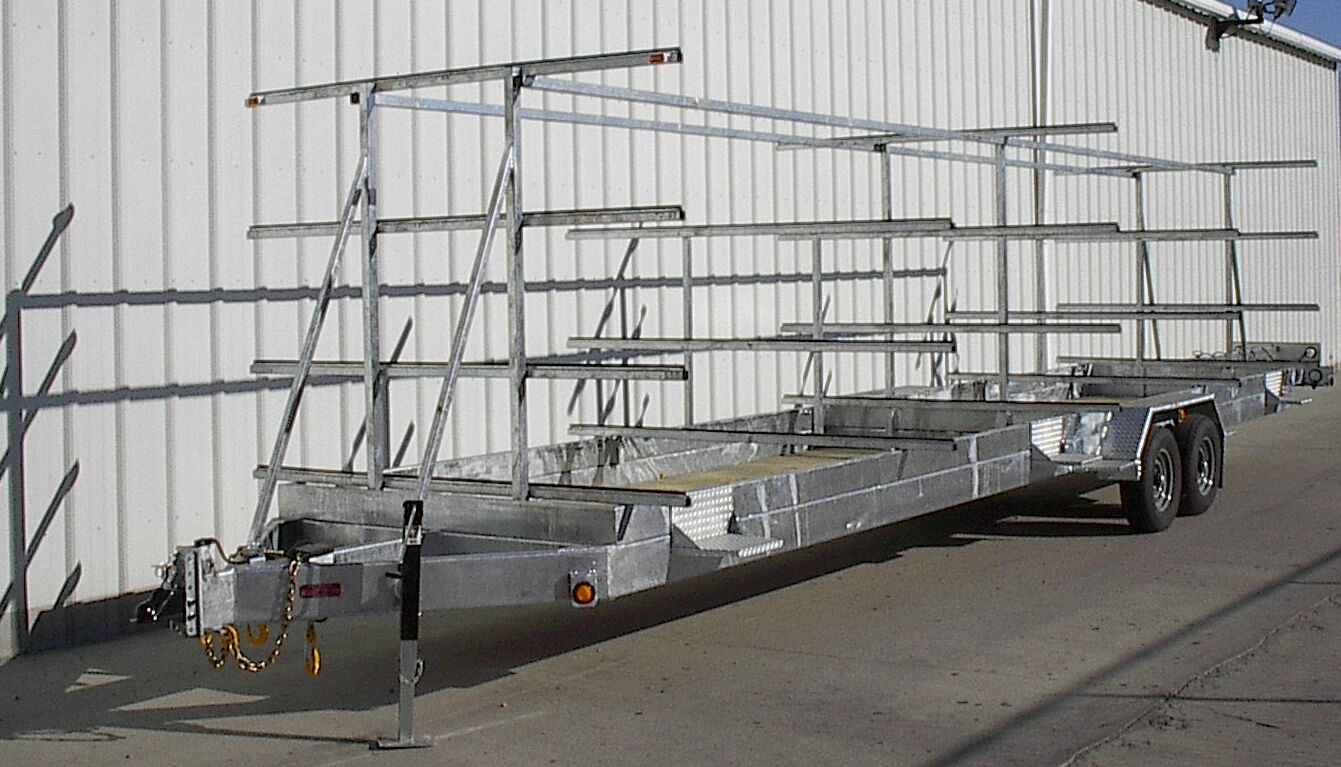 Steel 36 ft galvanized model shown